Fall Finds
Posted by penny
Sep 21
I have been away a few days but back and wanted to show you some "Finds" so you could check them out before the get gone….
These are the "fall/winter" colors of the plastic dishesthat I always love that you can find at Walmart.  These colors are great and the green would be great for the Holidays.  These are dishwasher safe too.  Did I mention that they are very cheap too…..
My Lily LOVES Duck Tape and she has to have a new roll every time we go to Walmart or Home Depot.  These are just  few of the MANY colors you can find.  Her favorite right now is the zebra and tye dye patterns.  She can be entertained for hours with a box and some duck tape.  But there are also many useful creations for adults.
Putting Duck Tape around the water bottles for a party is one of my favorites.  How creative is this?  No, this was not my idea but had to share it.
These are some cute Halloween bags and they ARE NOT the plastic ones.  I found these at Family Dollar (which is located on Willow Street- right down the street from the Scottsboro Utilities Board).  These make great bags for Birthday gifts too.  You can reuse them year after year.
I have never been a big "V8 person" and actually have never found it something that I care to take a sip of….. But, this V8 V-Fusion Energy Drink (Pomegranate Blueberry) is SO GOOD!  You will never know you are drinking something that is good for you and only 50 calories.  You really cannot pass up something that will give you a little energy too.
You know it is officially 'fall' when you see pumpkins and mums.  I found these at the Market behind Taco Bell.  The prices are good and the pumpkins look great.  They have small and large ones.
Also, you can find Mom's Mums in the Piggly Wiggly parking lot.  You will never go wrong with one of these mums.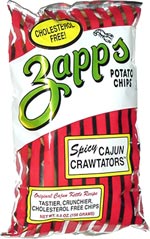 I don't know of anyone who can really watch a football game without a bag of chips.  One of my favorite chips (I think most people LOVE these) are Zapp's Potato Chips.  These are my Jimmy's favorite…..Spicy Cajun Crawtators and they hit the spot.  If you like chips with a little 'kick', you will enjoy these.   Zapp's are also cholesterol free too.  You can get Zapp's in a variety of flavors.
Purse Advertisers:
I love these small flower purses that The Grapevinehas in their shop.  These are perfect to take to a wedding or party.  If you have someone that you are never sure on what to get for a gift and they love purses or unique goods…. this is a great idea.
The Grapevine has just got in new Door Hangers.  I love this Scarecrow one.  This would take you through the fall and then you can put your Christmas door decoration up come the end of November.   I would not wait long because these always go fast.  They have very few of each one which I like because you do not see them all over town.
Big C Drugs is the place to take care of this……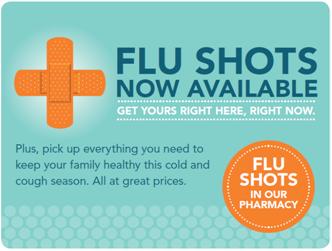 You can now get your Flu Shot at Big C Drugs.  There is no need to make an appointment for your shot, you can do it at your convenience at the pharmacy.  Plus, like the above picture says….. you can pick up everything you need to keep your family healthy during the cold and cough season. 
You will not find better prices on medication- prescription or over the counter. 
Big C Drugs has the insulated cups and these have the lids and straws.  My girls love these and I cannot imagine someone not enjoying this when they are sick or well.   Good for all ages.   If you are wanting or 'needing' any Auburn or Alabama goods, Big C has lots to choose from these days.
I have told you how great the equipment, service and staff are at Open MRI of Scottsboro but I wanted to share with you something that I appreciate about this place….  Their commitment to Scottsboro and Jackson County.   They not only care about the well-being and making sure that their patients are diagnosed with the best quality but they want prosperous things for the people who call Jackson County their home.  You can count on Open MRI if there is a need with children, seniors, athletes, groups who have interest in their health and clubs and organizations who strive to make Scottsboro and Jackson County a better place as well. 
We have some great businesses in our area but those businesses who want to see our county progress are the ones that really are looking for the "good" in what our county has to offer.  Open MRI of Scottsboro is one of those.  We are so fortunate to have this (above) piece of equipment in Scottsboro and to know that there is no reason to travel outside of the city limits to get the quality service that they have to offer.  Actually, you are going to get a much more personal outcome with your visit here than if you went anywhere else.  The Open MRI staff live here and know how it feels to be treated with top quality service and give what they would want if they were a patient here.
Talk of the Town has anything that you could possibly need for Football Season.  They have paper goods, tailgating supplies, picture frames, throws, wreaths, garlands (red/white and blue/orange), grilling goods, etc.  There is no way that you could leave there and not find a treat for yourself or someone else.  These are just a few of the goods that they have…..
Don't forget for you floral needs, that  Blooms by TOTT (located inside Talk of the Town) has beautiful 'garden baskets', fresh arrangements or silk arrangements.  Every home needs some 'live' plants for the winter and you can find something 'green' that will go perfect in your home.
Until next time…